O'SHAUGHNESSEY HOUSE – NEW TRANSITION HOUSE IN CARBONEAR OFFICIALLY OPENED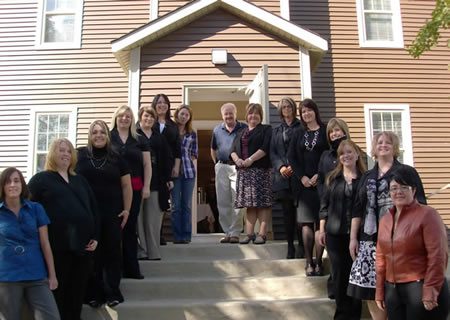 O'Shaugnessey House, a safe and secure transition house for women and children escaping violence, was officially opened in Carbonear, NL on September 24, 2010. It is a 15 bed transition house that will provide 24 hour emergency accommodation and a crisis telephone line, crisis intervention and prevention, food, shelter and referrals to appropriate services such as housing, income support, employment and legal services .
O'Shaugnessey House is the former convent of the Presentation Sisters. For one hundred and fifty two years the Presentation Sisters shared their gifts and leadership within the schools, parish and community of Carbonear until the convent closed in 2004. In 2008 Sr. Sharon Fagan, Congregation Leader, joined with a group of professionals in the Conception Bay North area to address some of the complex client issues within the region. Following a period of respectful listening and dialogue, a willingness to let go of personal agendas and a desire to attend to the needs of the most vulnerable, the group identified a need for a shelter for women and children in the area. The Congregation of Presentation Sisters was very pleased to gift the convent for this purpose.
In her address Sr. Sharon Fagan noted, "as a congregation our mission has always been about caring for and supporting those most vulnerable in our society. Our founder, Nano Nagle, worked to alleviate the suffering of many women and children marginalized by poverty and violence. Unfortunately, in our society today, woman and children still struggle for full dignity and bodily integrity. We hope that in gifting this house we will contribute to making possible, a safe, secure and supportive environment, where women can regain their strength and independence and begin to move toward a life free from violence."
The house was named O'Shaughnessey House, after Sr. Magdalene O'Shaugnessey, one of the founding sisters who came from Ireland in 1833 to found the Congregation of Presentation Sisters in NL. She spent her life devoted to educating the children whom she cherished, to caring for the poor, and to teaching adolescent girls domestic work skills. She was also responsible for sending the first Presentation Sisters to open a convent in Carbonear.
In partnership with Iris Kirby House and the NL government and the Presentation Sisters, this facility was made possible. As Gail Tobin, Executive Director of the Iris Kirby House reported,"Strong government and community partnerships saw this project become a reality. The opening of this new facility certainly validates for our clients that they have the support of a caring community, which is an important piece in the healing process for an abused woman as she moves to a life free from domestic violence."
While this house will be administered by Iris Kirby House staff and operational funding will be provided by the NL government the legacy of the Presentation Sisters will live on in this place. As Presentation Sisters we pray that God, who faithfully watched over the Sisters who lived there, will protect all those who will walk through the doors of O'Shaugnessesy House. The women and children will be met with warm hospitality and gentle compassion and will find this house to be a safe place of promise and possibility. That Sr. Magdalene O Shaughnessey 's spirit of commitment and service to children and to those in need, and her strength as a woman, will inspire and bless all those who will work and seek shelter at O'Shaugnessey House.