175th Anniversary Celebrations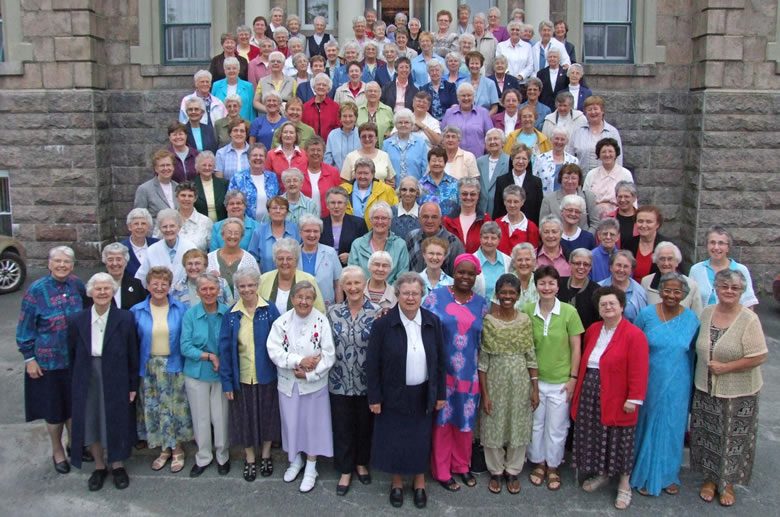 Sisters, Associates and visiting Sisters attending the 175th Anniversary celebrations
"There is no greater joy than to be in Union", this sentiment rang loud and clear through the closing of our 175th Anniversary Celebrations of the arrival of the Presentation Sisters held in St. John's, Newfoundland and Labrador from August 24-27, 2009.
Presentation Sisters from Ireland, Zimbabwe, India, Australia, New York, California, Iowa and South Dakota were on hand to join in the celebration.
This historic event marked a milestone in Presentation history as St. John's was the first mission outside of Ireland.
In September 1833, four courageous pioneer Sisters crossed the cold, harsh North Atlantic Ocean in the name of our foundress Nano Nagle and forever changed the people and province of Newfoundland and Labrador.
The week's events included input by Terry Abraham, pbvm, Congregational Leader of Union, sessions on Tuesday and Wednesday, a cemetery service, some traditional Newfoundland dancing and music with time put aside for reading of the original letters of the first Sisters as we sailed on the ocean where they entered the harbor in 1833. Also included were sightseeing and whale watching on Thursday. And yes, there were whales!
On Thursday August 27th, a Mass of Thanksgiving was held at the Cathedral Basilica of St. John the Baptist in honour of the P.B.V.M. and their dedication to the people of the province.
At the end of the mass, Sister Sharon Fagan, Congregational Leader explained,
"Within a month Sisters took up their abode in a residence which had been renovated for them…a former tavern with the name "the Rising Sun' – a fitting name symbolizing the light of faith and education which they came to diffuse throughout the country. On October 21 they opened their first school where 450 children were waiting to be admitted." "How little did our first four sisters know the growth and abundance they started 175 years ago?"
Former Dean of Education at Memorial University, Alice Collins, also spoke and used the word "extraordinary" to describe the Presentation Sisters contribution to the province.
"It would be hard to imagine the education system flourishing particularly for Catholic boys and girls without the presence of the Sisters who were present in large and small communities across Newfoundland," said Collins."Their calling around education was the education of the whole child. It was academic but it was also spiritual, it was character building, it was moral development. It was also knowing your math; you better know your math," she says with a laugh."They were rigorous around academic achievement and those of us who were fortunate to have gone to the Sisters have benefitted from that. It was the development of the whole child."
The church was packed with people and filled with glorious music. A social was held afterwards at "The Lantern", a Christian Life Centre owned by the Sisters.
So here's to the first 175 years in Newfoundland, may we continue on as women of hope with Nano's work in whatever form it takes.
— Wanita Bates